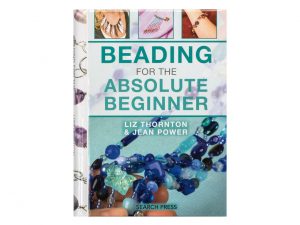 Beading for the Absolute Beginner, 999 A160, £12.99 
Beading and its associated techniques can, at times, feel like a different language and can be more than a little confusing to anyone not familiar with the craft. This is why well written books can be such a godsend. And, I am happy to say 'Beading for the Absolute Beginner', is one such book thanks to a combination of experienced and competent authors and a great layout.
So, lets deal with the layout first; this book is produced by Search Press who specialise in practical art and craft books and manuals and have done for fifty years; in short, they know what they are doing. This particular book is both hard back and ring bound, meaning it will easily sit flat once open. It is also only A5 in size so it is ideal to sit on the bench top and be used as an instruction manual as you work.
Comprising of 192 pages, Jean Power and Liz Thornton guide you around materials and tools with a general introductory section spanning 37 pages. They discuss and explain the different types of beads available giving a general idea as to how they are best used, imparting great advice as they go.
"Lampwork beads – are made in a flame from glass rods. Each one is individually made so they can be quite special (and, of course, expensive)."
They then gently work through 25 varied projects which introduce a range of different techniques that fill the remainder of the book. Each project starts with a separate 'Materials' and 'Tools' section so you can clearly see what is required to complete each piece before you start. Projects include: Feet and hand ornaments, various different earrings, brooches and bracelets, a multi strand choker and a decorative keyring (to name but a few), all of which sound quite frankly terrifying to the uninitiated…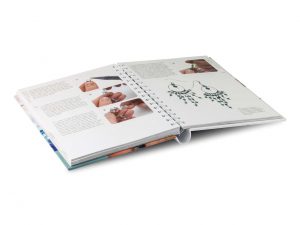 However, step by step instructions and generous amounts of photographs, (over 200 in total) coupled with friendly but informative language, help to make these projects far less daunting.
"Jump rings are metal rings that are used to attach findings and clasps, and can also be linked to each other to make chains. Make sure you open and close the jump rings correctly to help them retain their shapes."
As the title suggests, this book covers some of the most basic techniques which will enable the reader to establish those first and fundamental building blocks of beading. For example; Crimping, opening and closing jump rings, making overhand knots, knotting elastic cord, cutting and filing wire, making double ended units and joining units together. All are covered within the confines of a project so their use is illustrated perfectly.
Both authors (Liz Thornton and Jean Power) are teachers, as well as designers/crafters, editors and writers about all things beading and their enthusiasm and knowledge really shines through in this book. This is a great introduction to beading and would make an ideal gift for anyone looking to try something new or who have perhaps been intimidated by beaded accessories in the past.
Written by Joanna Varney
Joanna has worked in and around the jewellery industry for well over 20 years. She has designed and created her own pieces as a designer maker, as well as working in jewellery retail on a much larger scale, producing designs and NPD for some of the UK's largest high street retailers